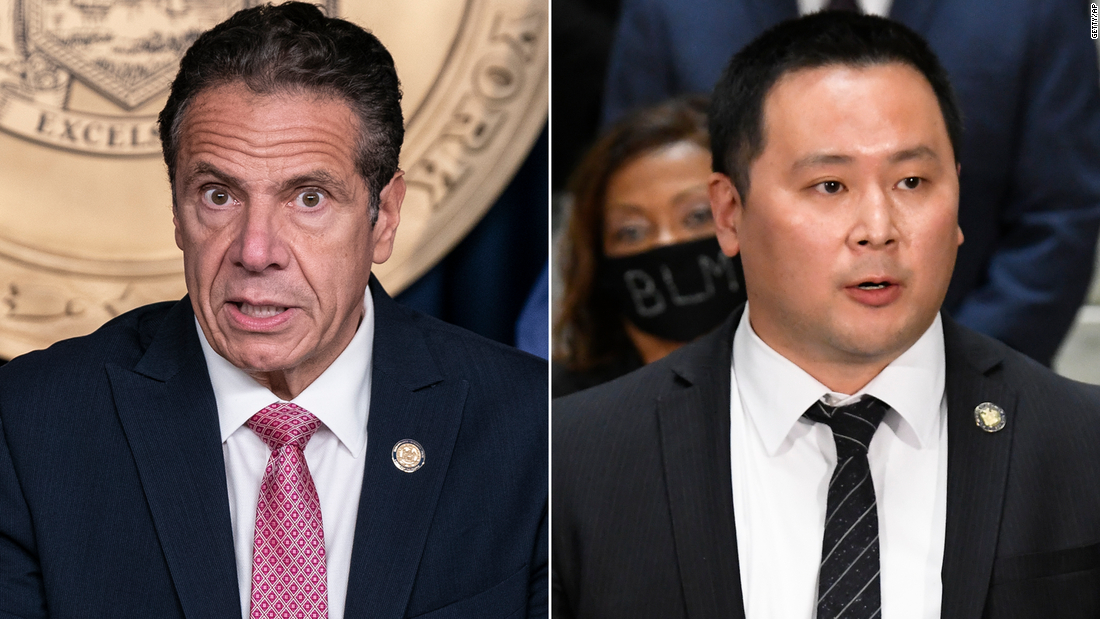 One New York State Assemblyman is openly claiming New York Governor Andrew Cuomo verbally threatened him for criticizing his handling of nursing homes during the pandemic's early days.
According to Assemblyman Ron Kim, a long-time progressive democrat and chairman of the state's Aging Committee, Cuomo berated Kim over the phone late at night last week for not politically supporting his pandemic response regarding nursing homes.
"Gov. Cuomo called me directly on Thursday to threaten my career if I did not cover up for Melissa [DeRosa] and what she said. He tried to pressure me to issue a statement, and it was a very traumatizing experience," Kim told CNN. "we're in this business together and we don't cross certain lines and he said I hadn't seen his wrath and that he can destroy me."
"Who do you think you are," Cuomo asked Kim when he refused to back the Democratic governor.
Cuomo's demand for loyalty comes as his aide Melissa DeRosa admitted earlier this month that the administration knowingly withheld the true COVID death toll among nursing home residents. Up until recently, the state only reported deaths occurring within nursing homes as 'nursing home deaths' whereas most, if not all states, classified the death of any long term care patient from COVID, regardless of whether they died in a nursing home or hospital, as a nursing home death.
This new, more in line way of reporting data caused the proportion of nursing home deaths to spike almost threefold, though it did not change the total New York death tally.
Cuomo's administration was allegedly hiding the true data from federal investigators, a move some are calling an abuse of power.
In March, Cuomo ordered nursing homes to readmit recovering COVID patients who had not yet fully recovered or who had not yet tested negative for the virus, a move linked to up to 1,000 excess deaths in nursing homes, or 1 in 6 nursing home COVID deaths between late March and early May. The policy was rescinded in May after it became public.
Kim, among other Democrats, are calling to remove Cuomo's emergency powers given at the start of the pandemic. Republicans in the state legislature are eyeing impeachment.
"He laid out how he was going to come out to the public and tell everyone how bad of a human being I am. And they would ruin my career. I mean, the way that he presented himself… It left my wife in tears for 2 hours," Kim said in a Fox New interview.
Cuomo threatened to destroy his career if Kim "did not issue a statement that he can use to cover up for his top aide."
"I believe his top aide had accidentally told the truth of the cover-up that they purposely hid life and death information from the Department of Justice in fear that the information could be weaponized against them. Now there is a web of lies and excuses why they couldn't provide information. But sooner or later, the truth will come out. And that's what's happening now," he added.

"I have told the administration, including in the private meeting, there are a number of policies that you got wrong for the last 10 months," Kim said. "You need to own up to your mistakes, issue a public apology, create a victims compensation fund for the families who lost loved ones, repeal that stupid legal immunity that gave the worst nursing homes a get out of jail free card and a number of different policies that we should be working on to fix what you did. But they're not interested. They're not interested in fixing them."

Kim's statement during a Fox News Interview
The governor's office had reached out to Kim several times following the first harassing call, but Kim has refused to respond.
---
---
Categories: Politics