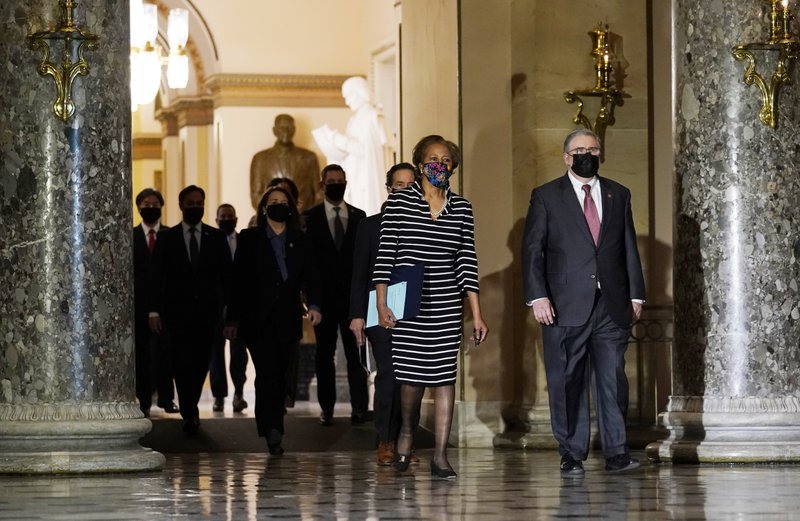 Former President Donald Trump's legal team released a 14-page legal defense against the Articles of Impeachment levied against their client.
Democrats, on January 13th, along with 10 Republicans formally impeached outgoing President on the grounds that his actions directly led to supporters storming the U.S. Capitol as Congress met to certify the 2020 election. They assert "President Trump repeatedly issued false statements asserting that the Presidential election results were the product of widespread fraud and should not be accepted by the American people or certified by State or Federal officials," instigating his supporters and sowing mistrust in institutions. Additionally, they claim charged language used by Trump during a January 6th rally, such as "we won this election, and we won it by a landslide" and "if you don't fight like hell you're not going to have a country anymore" incited the crowd into attacking Congress, leading to the murder of a Capitol Hill police officer and four other deaths.
Democrats also cite Trump's January 2nd call with Georgia Secretary of State Brad Raffensperger in which Trump asked the official to "find" enough votes to put him over the line of victory.
In an 8-part defense against the single charge of inciting an insurrection on January 6th, Trump's attorneys hope to prove both Trump's rhetoric leading up to the deadly siege on Capitol Hill and in the months following the November election was protected speech, and that it is unconstitutional to hold an impeachment trial for a President who already left office.
Proponents of impeachment are gunning for removal from office and disqualification of holding any future office, essentially shutting Trump out of a 2024 run. Trump's attorneys assert because Trump is, as of January 20th, a former President, the Senate can no longer remove him from office – the only remedy for impeachment listed in the Constitution. Without a legal remedy or punishment available, there is no reason to hold a trial. The brief adds, "since removal from office… is a condition precedent which must occur before, and jointly with, "disqualification" to hold future office," the latter cannot apply with Trump out of office.
The Trump team denies the President engaged in any act of insurrection and thus the claim he'd be ineligible to hold future office under the 14th Amendment is a "moot" point.
They deny Trump ever acted in violation of his oath of office to protect and defend the Constitution.
The impeachment argued Trump's statements criticizing the election, often calling it "stolen" and "rigged" is well within his 1st Amendment rights and falls under Constitutionally protected speech. Americans, regardless of office held, are free to express their opinions, even if they're wrong, and there is no legal restriction on being so, as long as it's held with a genuine belief. 45th's counsel have taken that stance. There is no verifiable evidence of voter fraud on a scale large enough to sway any state election. However, that's not what Trump's lawyers assert. "Under the convenient guise of COVID-19 pandemic 'safeguards,'" his lawyers said, "state election laws and procedures were changed by local politicians or judges without the necessary approvals from state legislatures."
In point 5, Trump's lawyers reiterate the then-President was merely stating his opinion that the election was rife with fraud during the January 6th rally proceeding the loosely related attack on Capitol Hill.
They deny actions undertaken by rioters met the legal definition 'seditious acts,' while acknowledging the evilness of that day. Referencing other cited quotes, Trump's lawyers say the President was 'clearly' telling his supporters to "fight like hell" for election security, not to physically attack the capitol or interfere with vote counting procedures. "I know that everyone here will soon be marching over to the Capitol building to peacefully and patriotically make your voices heard," Trump said towards the tail end of his speech. In the context of general political rhetoric, Trump's comments were no more inciteful than his Democratic and Republican colleagues. His team also asserts that electoral objections are a normal part of the congressional counting process, citing Democrats objections in 2017 and Republican objections last month.
In point 7, Trump's team steps back four days to a now infamous call between the President and Georgia's Secretary of State. Trump, during the secretly recorded hour long conversation, asked Secretary Raffensperger to "find" enough ballots for him to win the state. They admit everything on the call was accurate and without missing context. "It is denied the word "find" was inappropriate in context," they continue, "as the president was expressing his opinion that if the evidence was carefully examined one would 'find that you have many that aren't even signed and you have many that are forgeries.'" Again, being wrong is not criminal, and according to Trump's defense team, "find" was in reference to reexamining state evidence and sorting out legal votes. They also deny Trump threatened any Georgia official.
Finally, Democrats claim Trump "threatened the integrity of the democratic system, interfered with the peaceful transition of power, and imperiled a coequal branch of government." Trump's lawyers deny the claim, and deny its relevance to impeachment.
In addition to the 8 outlined points, Trump's legal team argues the House did not act within due process as they "rushed" through impeachment without holding a single hearing.
Attorneys Bruce Castor and David Scheon, representing the 45th President, are not his first set of legal counsel. His original defense team quit mere days ago after an internal battle over whether to approach this case by attacking the impeachment's constitutionality or whether to argue Trump's claims of voter fraud were not factually incorrect. Trump, obviously, wanted the latter while his team insisted on the former, leading to a last minute shake up.
Trump's second impeachment trial in the Senate is scheduled for Tuesday, February 9th.
---
---
Categories: Politics