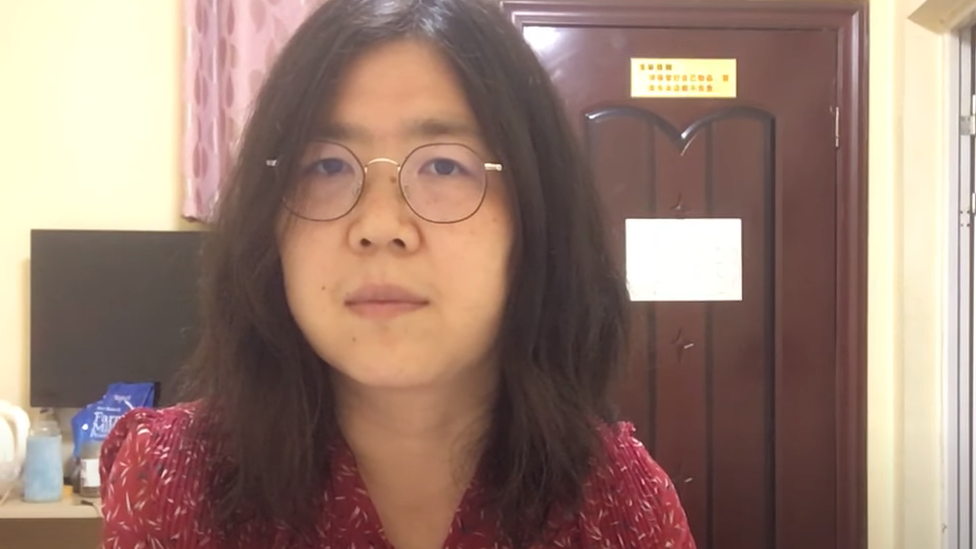 China has arrested, charged, and sentenced yet another citizen journalist for independently investigating the origins of COVID-19; she's not the first and will almost certainly not the last.
On Monday, a Chinese court sentenced lawyer turned independent journalist Zhang Zang to 4-years in prison after reporting stories around the spread of the Coronavirus that did not align with the Chinese Communist Party's approved narrative, her lawyer confirmed. Zhan was arrested in May "following accusations she spread false information, gave interviews to foreign media, disrupted public order and 'maliciously manipulated' the outbreak," the Associated Press reported.
Her Indictment claimed she was spreading "false information through text, video and other media through [platforms like] WeChat, Twitter and YouTube".
"She was arrested in May amid tough nationwide measures aimed at curbing the outbreak and heavy censorship to deflect criticism of the government's initial response," the AP added.
Zang's lawyer, Zhang Keke did not provide further details, pointing to a potential gag order placed on her legal team.
The 37-year-old lawyer made the jump to investigative citizen journalist in February when she traveled to Wuhan and began sharing videos, interviews, and information on Twitter, WeChat, and YouTube.
She went on a hunger strike following her arrest, leading jailers to force-feed her. She's reportedly in poor health.
Zang's story is reflected in China's grand Coronavirus response – cover up after cover up. From day 1, government officials ranking as high as China's president have taken steps
Communist officials were questioning and intimidating doctors caring for COVID patients as early as December 30th, 2019, pressuring them to cease discussion of what was then an unknown virus. Labs that same week were ordered to destroy samples of COVID-19 and forbid any further research. Xi Jinping would go weeks without announcing the Coronavirus's existence and ease of transmission to the world, letting the virus take root in multiple countries.
The Associated Press published an investigative piece on the suppression of Coronavirus related research, finding that the CCP heavily restricted who was authorized to conduct research into the pandemic's origin, and those granted permission were told not to speak with the press. All findings and data must be submitted to the Chinese government for approval before publication.
The government is handing out hundreds of thousands of dollars in grants to scientists researching the virus' origins in southern China and affiliated with the military, the AP has found. But it is monitoring their findings and mandating that the publication of any data or research must be approved by a new task force managed by China's cabinet, under direct orders from President Xi Jinping, according to internal documents obtained by the AP. A rare leak from within the government, the dozens of pages of unpublished documents confirm what many have long suspected: The clampdown comes from the top.

Associated Press
A team of AP journalists in China were even "tailed by plainclothes police in multiple cars who blocked access to roads and sites in late November."
Unfortunately, Zang is not the only Chinese citizen punished for prying into an outbreak the CCP has tried so desperately to coverup.
According to the United Kingdom's Chinese Embassy, "Ms. Zhang is one of at least 47 journalists currently in detention in China" for Coronavirus related investigations. While the global community knows the whereabouts of Zhang, many others have disappeared in the tyrannical government's secretive prison system.
A British diplomat was reportedly blocked from attending her trial.
"The United States strongly condemns the People's Republic of China's (PRC) sham prosecution and conviction of citizen journalist Zhang Zhan on December 28," Secretary of State Mike Pompeo said in a statement regarding Zhan's sentencing. "We call on the PRC government to release her immediately and unconditionally."
"The rest of the world relied heavily on uncensored reports from citizen journalists like Zhang to understand the true situation in Wuhan," he continued. "Her hasty trial, to which foreign observers were denied access, shows how fearful the [Chinese Communist Party] is of Chinese citizens who speak the truth."
---
---
Categories: World News