Danny Presti, Co-owner of NYC bar Mac's Public House, was arrested Tuesday evening after defying New York Governor Andrew Cuomo's reinstated lockdown rule which called for the banning of indoor dining in some areas.
The bar is located in an area of Staten Island with rising COVID-19 cases and has subsequently been designated as an Orange Zone, prohibiting indoor dining. In defiance of Gov. Cuomo's new lockdown orders, Presti and fellow co-owner Keith McAlarney kept Mac's Public House open, declaring the building "an 'autonomous zone,' a nod to protesters who claimed control over a Seattle neighborhood in June," the AP reports.
Back in June, thousands of BLM protestors were left to their own devices by the orders of Seattle Mayor Jenny Durkan after the group forcibly took over 6 blocks in Capitol Hill, establishing barriers to keep people out. Despite the ongoing pandemic and lack of social distancing, it took weeks for the city to clear the area. Durkan went on air to encourage CHAZ to continue.
Despite already being fined "thousands of dollars" for remaining open later than 10:00 PM, violating another lockdown order, the bar owners unsuccessfully tried finding a legal loophole to continue operating. Instead of actually paying for a meal, patrons would provide a mandatory donation $40 and in turn would receive food and drinks.
This didn't fly with undercover officers who signaled for uniformed officers to come in, issue tickets, and shut the place down. Presti was later arrested following a confrontation with responding officers.
Presti "was uncooperative and was charged with obstruction of governmental administration in addition to the charges stemming from unauthorized food and beverage service," the AP continued.
Videos show a massive crowd of supporters who gathered outside the tavern in support of Presti as he was escorted from the building in handcuffs.
Republican State Senator Andrew Lanza joined supporters, condemning the actions as unnecessary. "This order simply says that they need to cease and desist,'' Lanza told officers with the order in hand. "Nowhere here is there an arrest warrant, nowhere here is anything about arresting anyone on their private property. So I'll ask, [and] you don't have to answer … why was he arrested? I was told you would tell me why he was arrested and now I'm asking for that answer."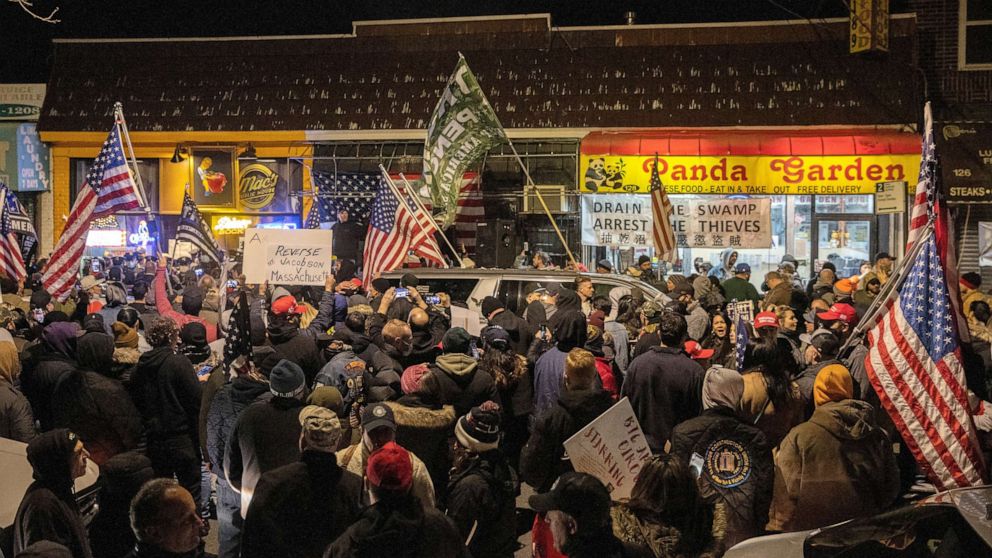 "From what I understand, he's arrested because he didn't want to leave [his business], and at that point … they considered it trespassing,'' Lou Gelormino, an attorney for Mac's Public House said. "I'd like to know why his (other) attorney got three summonses for just being there and being peaceful and respectful and calm, and every one of these officers can attest to that."
Presti, who appeared on Fox & Friends, said they're keeping their business open to survive, and in these trying times, they need help that Cuomo and De Blasio failed to provide. "At this point we are losing faith, and kind of lost faith in the ability for our local and city governments to help us," he said. "We just need in some way to either be assisted or to get our places open and these state agencies and city agencies that come in and threaten to fine us or pull our licenses every single day, it's not right."
Instead of helping struggling businesses like theirs, state agencies are "kicking open the door and then threatening tens of thousands of dollars of fines every single day. This is what we're saying to our governments, and Governor Cuomo and the mayor, is you have to stop this and you need to assist us," he said. "
Even with mounting legal challenges, the owners of Mac's Public House will not stop fighting to save their business.
---
---
Categories: U.S. News