Relativity matters, especially when it comes to pursuing public policy and claims of generality. With Black Lives Matter protests following the tragic death of George Floyd stretching into their fourth month, one question keeps cropping up: are the protests largely peaceful, or are they usually a catalyst for violence?
Most media outlets will share the narrative they want highlighted while sourcing selective data to back up their claims. Some will exclusively focus on the rioting and ignore the hours of peaceful assembly prior to the first brick being thrown while others will ignore chaos until it forces the city's mayor to move out of his townhouse.
Surely not all BLM events turn violent, and pictures prove many devolve into riots, but just how many do?
Luckily for us, the Armed Conflict Location & Event Data Project (ACLED) and Princeton University's Bridging Divide Initiative (BDI) have recorded political protest activities in thousands of locations. In a joint project dubbed the US Crisis Monitor, the ACLED and BDI tallied over 7,750 unique protests linked to BLM in more than 2,440 cities in all 50 states between May 24th and August 22nd. Beyond that date range, protests are still ongoing, but they appear to be losing steam.
"While the US has long been home to a vibrant protest environment, demonstrations surged to new levels in 2020," ACLED wrote. "Between 24 May and 22 August, ACLED records more than 10,600 demonstration events across the country. Over 10,100 of these — or nearly 95% — involve peaceful protesters. Fewer than 570 — or approximately 5% — involve demonstrators engaging in violence. Well over 80% of all demonstrations are connected to the Black Lives Matter movement or the COVID-19 pandemic."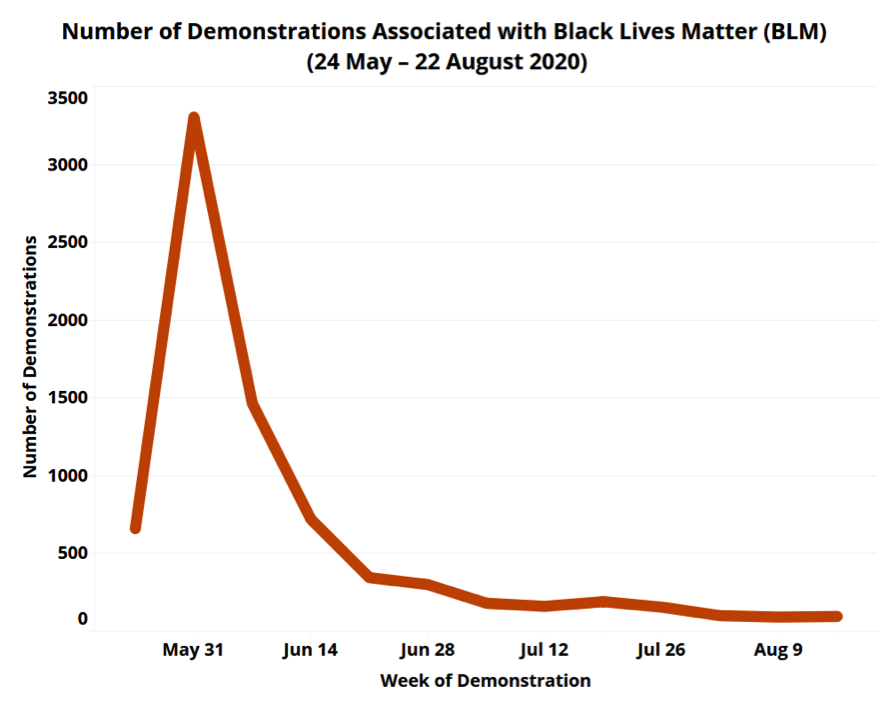 Protests have surged 42% year over year in July alone. The number of protests steadily increased since May, but "reported events associated with the BLM movement have gradually declined since their peak in late May and early June." BLM protests peaked in late May with nearly 3,500 in one week and have fallen to less than a couple hundred each week since July.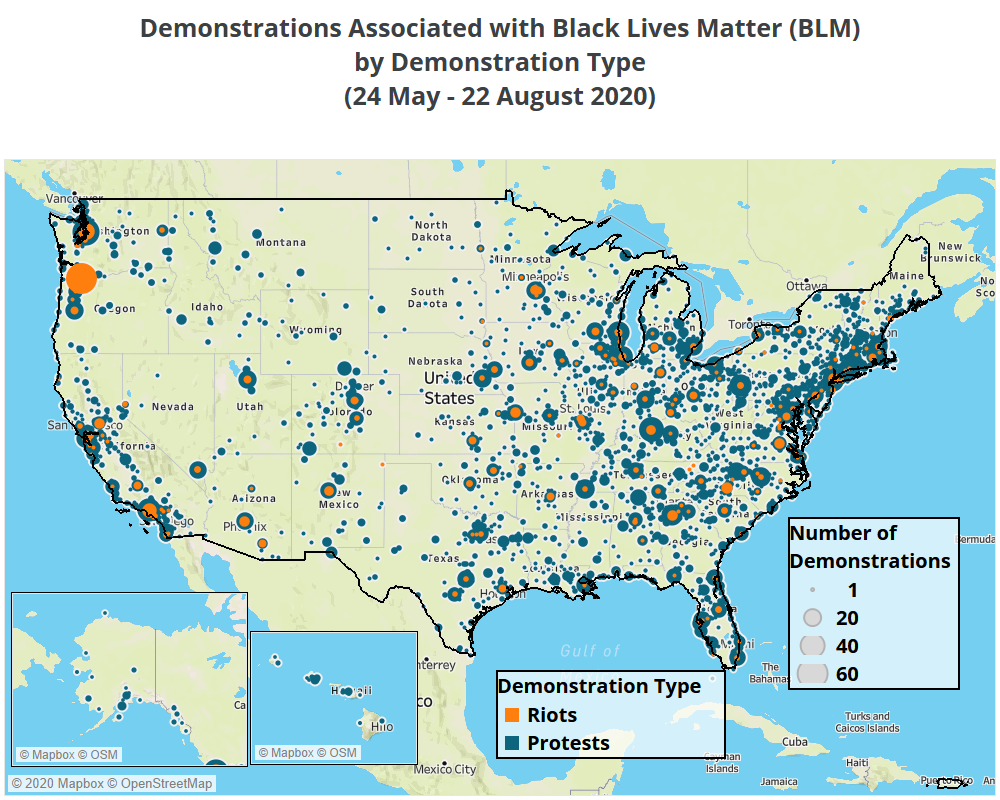 ACLED also found that "in more than 93% of all demonstrations connected to the movement, demonstrators have not engaged in violence or destructive activity." However, this still means 540 of the 7,750 BLM protests erupted into riots. These riots have been confined to approximately 240 different locations, some seeing more violence than others.
Violence was largely confined to a few localized blocks rather than spread throughout the entire city in most recorded incidents.
"In some cases where demonstrations did turn violent, there are reports of agents provocateurs — or infiltrators — instigating the violence," citing an example in Minneapolis where a white Hells Angels member reportedly was one of the first to smash business's windows in an attempt to sow racial unrest in the city, though they blame the actions of these select "agitators" for the actions of thousands. Police records during the early days of Minneapolis's riots showed most detainees came from out of state.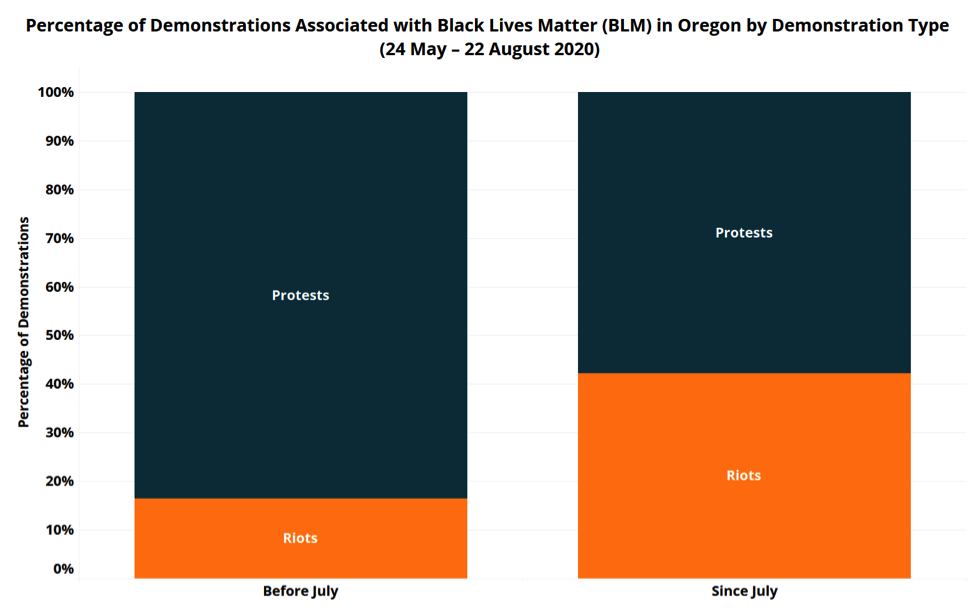 While violence erupts, on average, in 7% of BLM protests, some states are far more susceptible to riots than others. Oregan, the state hit hardest by violent demonstrations, has seen a stark uptick in riots after federal troops were brought into the state in early July by President Trump to quel ongoing riots, though we are unsure whether the troops increased tension in the area or are a response to the increasing violence. "The percentage of violent demonstrations has risen from under 17% to over 42%" after July. "In Portland," the city hit hardest, "violent demonstrations rose from 53% to nearly 62% of all events after federal agents arrived on the scene."
ACLED also recorded "over 100 events in which non-state actors engaged in demonstrations (including counter-demonstrations) — the vast majority of which were in response to demonstrations associated with the BLM movement. These non-state actors include groups and militias from both the left and right side of the political spectrum, such as Antifa, the Not Fucking Around Coalition, the New Mexico Civil Guard, the Patriot Front, the Proud Boys, the Boogaloo Bois, and the Ku Klux Klan, among others."
ACLED recorded 360 counter demonstrations during the same timeframe, 12%, or 43 incidents, turned violent.
Armed individuals from boths sides have also become a common occurrence at these demonstrations. While it's their constitutional right to do so, open carrying has likely escalated tension to some extent.
With less than three months until the 2020 election political activism will only grow among the populus. Most will be peaceful, but many will sadly erupt into violence.
---
---
Categories: Politics