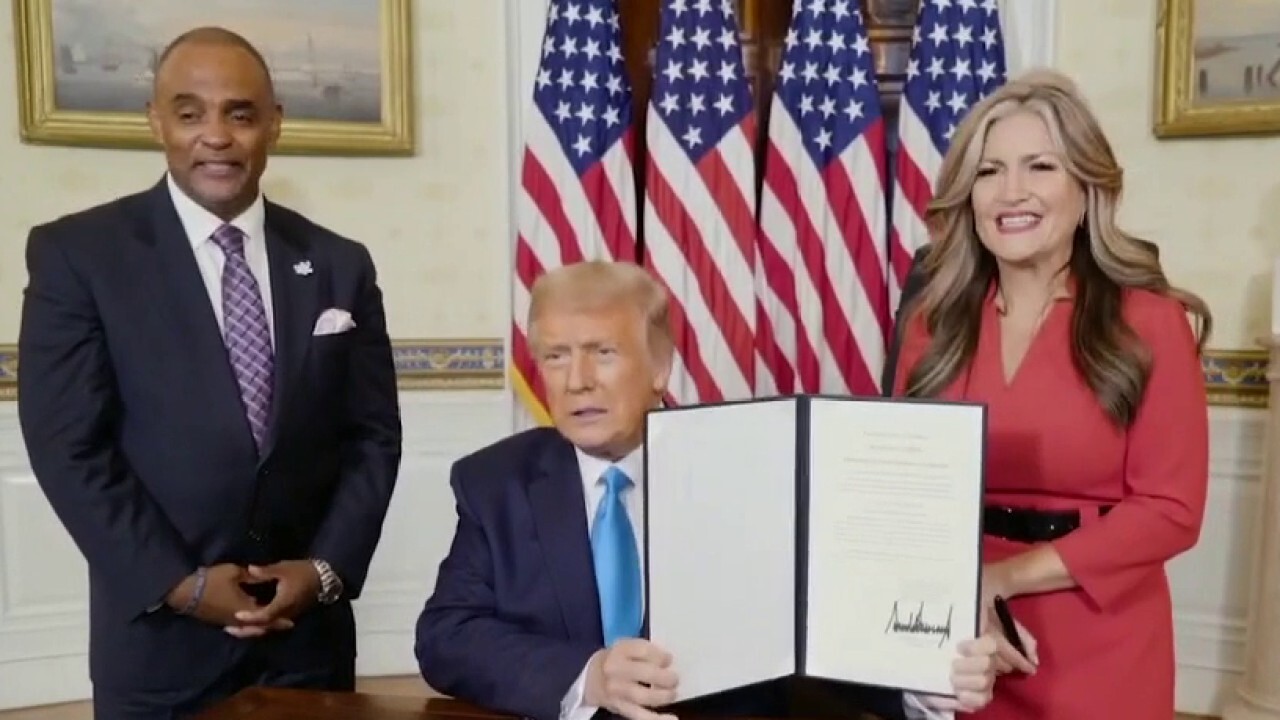 In a night filled with political firsts, President Trump pardoned convicted bank robber turned prisoner re-integrationist Jon Ponder and presided over the naturalization of five immigrants during the second night of the virtual RNC.
Early in the evening, Jon Ponder, founder of the prisoner reintegration nonprofit Hope for Prisoners, spoke alongside Richard Beasley, the FBI agent who arrested him more than a decade ago, on the issue of prison reform and second chances in the country. Trump famously signed the First Step Act in 2018 allocating more resources towards preparing prisoners for release and getting them back into society.
Ponder, who was in and out of prison from the ages of 16 to 37, said he turned his life around by looking to God for guidance and upon his final arrest for a string of bank robberies pledged to serve God from then on out.
Beasley recounted his first moments with Ponder, and reflected on their unlikely friendship over the years. He joined Ponder in praising Trump's prison reform success.
According to Fox News, "the president in 2018 honored both Ponder and Beasley during a ceremony in the White House Rose Garden during the National Day of Prayer." He also attended a graduation ceremony of Hope for Prisoners participants that year.
Trump followed up with a surprise of a lifetime for Ponder, saying he "has created one of the most successful reentry programs, Hope For Prisoners, in Las Vegas." Adding, "Hope for Prisoners is a movement that began as a dream, in a tiny prison cell, and is now making a difference in the lives of thousands, truly bringing hope that there is an opportunity and a community that is waiting and willing to offer them a second chance." Ponder was nearly in tears as Trump announced he was granting grant him a "full pardon" on the spot for the "incredible work" he's done.
While Ponder was gifted with a new beginning, Trump gave a fresh start to five people from around the world who yearned to be Americans.
Trump hosted the official naturalization ceremony for five immigrants from all parts of the globe inside the White House. Candidates for citizenship, lined up mere feet from the president, took their oath of allegiance to the United States in a one of a kind ceremony led by acting Secretary of Homeland Security Chad Wolf.
Following the oath of allegiance, Wolf commended Trump "for his dedication to the rule of law, and restoring integrity to our immigration system."
"Today, America rejoices as we welcome five absolutely incredible people into our great American family," Trump said after the ceremony. "You are now fellow citizens of the greatest nation on the face of God's Earth. Congratulations. Great going. You followed the rules, you obeyed the laws. You learned your history, embraced our values and proved yourselves to be men and women of the highest integrity."
"With the rights and freedoms that you each enjoy, there's no dream beyond your wildest reach because Americans can do anything," Trump added.
The newly naturalized citizens hailed from Bolivia, Lebanon, India, Sudan and Ghana, they each spoke multiple languages and held various academic degrees and some even built their own businesses here.
But not everyone was enthusiastic about Trump's actions. Critics are calling this an inappropriate mixture of the office of the president with political events. Trump utilized his presidential powers twice – pardoning Ponders, and presiding over the swearing in of new citizens – while hosting the Republican National Convention, in part, from the White House.
The Washington Post points out Trump may have violated "federal prohibitions against using government resources for campaign purposes. The Hatch Act broadly bars government officials from using government time or buildings — like the White House — for advancing a political effort." The Hatch Act is a rarely enforce rule with mild punishments for top officials as most if all actions pursued by the President and his immediate cabinet is inherently political.
---
---
Categories: Politics