For those with the same sources as Washington Governor Jay Inslee [D], who denies knowing anything about the uprising, you may be unaware of AntiFa's little commune established at the intersection of Pine Street and 12th Avenue in downtown Seattle dubbed the Capital Hill Autonomous Zone, or CHAZ for short.
As Black Lives Matter protests in Seattle heated up and turned violent, police were forced to abandon their East Precinct station by the orders of Seattle Mayor Jenny Durkan. Not everyone agreed with the decision. Seattle Police Chief Carmen Best, a critic of the move, ordered officers to collect paperwork, files, and anything of value to the department and leave the premises after threats of arson became known.
Within hours, AntiFa swormed the building, taking everything that wasn't nailed to the floor, and erected walls made out of stolen police barricades, wooden panels and chain linked fence across every road in a several block radius effectively creating their own commune closed off to the public.
At each wall separating CHAZ from the rest of Seattle, sign pepper the road saying "you are now leaving the United States," "People's Republic of Capitol Hill," "cop-free zone," and many other similar statements.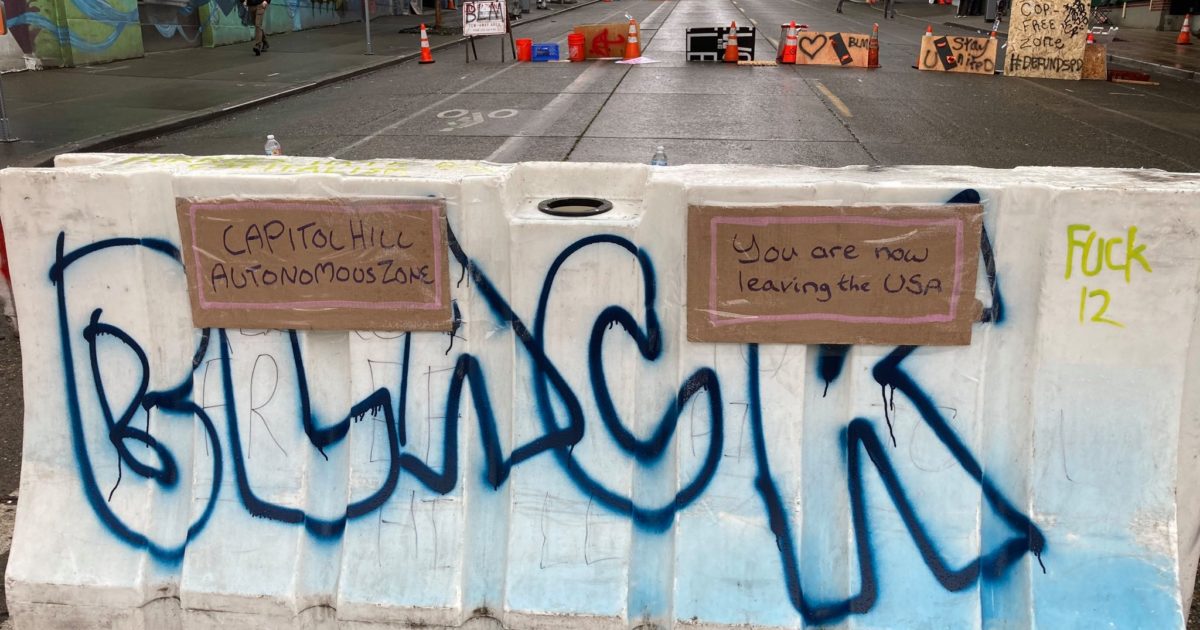 Within CHAZ, area has been zoned for camping, for movies, demonstrations and free speech zones. Medical stations, latrines, and even a farm was built, though by the looks of their setup, food production will likely be equivalent to that seen during Mao's Great Leap Forward.
Hundreds, if not thousands of people can be seen occupying the grounds at any given time. many filter in and out of the area, but a staggering amount have set up semi-permanent camp in the nearby baseball field.
As you would expect, things quickly went south.
According to one activist, who regularly tweeted and promoted the Autonomous Zone before switching her profile to private, homeless people invited into the compound stole their food and CHAZ, after only a day, needed "more food to keep the area operational." She requested donations of "vegan meat substitutes, fruit, oats, soy products, etc."
One twitter user pointed out the irony, saying "if only there was some group you could call when people take all your stuff."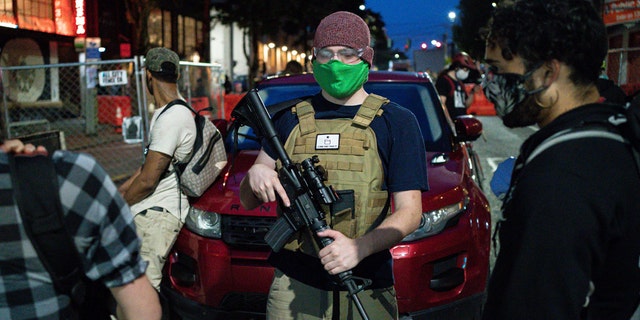 Armed guards carrying semi-automatic weapons and wearing body armor have also set up posts along the borders to control who enters the commune. Washington is an open carry state, so carrying these weapons does not violate any laws.
Despite the takeover, people still live in the 6-block area, businesses are still operating to whatever extent they can, but residents are finding life in CHAZ to obstructive.
Fox Reported, "Mckenzie Diamond, who lives in the 'Autonomous Zone,' told Kiro 7 the experience has been 'a bit stressful.'"
"'It's like checking in with somebody to get into your own home,' Diamond told the news outlet. 'Just making it so people can get into their buildings. Keep the zone however they want, and move the fencing so people can go home.'"
Fox also found an anonymous police official who corroborated Diamond's story. "Speaking on the condition of anonymity because they are not authorized to discuss the unfolding situation, the official told Fox News some people living in the area — which includes numerous bars, restaurants, businesses and private residences  — have been 'begging for help because they are not being allowed into their homes without ID.'" Armed guards at CHAZ's borders are very selective about who can enter the compound.
Businesses are also subject to AntiFa mobster-like intimidation, unable to operate unless they support the movement.
On Wednesday, Deanna Nollette, Assistant Chief of Police, said, "we've heard, anecdotally, reports of citizens and businesses being asked to pay a fee to operate within this area. This is the crime of extortion. If anyone has been subjected to this, we need them to call 911."
As expected, CHAZ even has its own self-declared police force. The New York Post reported, Seattle rapper "Raz Simone was caught on video allegedly assaulting someone over graffiti in the CHAZ."
In the video, Simone confronted a man tagging a building graffiti, saying "we are the police of this community now," adding, "we are the leaders of this community now."
The video then shows Simone and the tagger scuffling.

Simone, who's reportedly been patrolling the CHAZ with an AK-47 and a handgun, responded on Twitter, saying the men squashed their beef.

"It was great black dialogue and men apologizing to each other, abandoning pride," he wrote. "We all hugged each other, cried it out and it was beautiful."

Protesters have identified Simone as one of the leaders in the CHAZ, according to KOMO News. Other news outlets have accused him of turning into a warlord.

New York Post
On Tuesday, leaders of CHAZ published a list of 30 demands on Medium.com, outlining what must happen for them to cease their occupation. The list is meant to "represent black voices," adding "this list of demands is neither brief nor simplistic. This is no simple request to end police brutality. We demand that the City Council and the Mayor, whoever that may be, implement these policy changes for the cultural and historic advancement of the City of Seattle, and to ease the struggles of its people."
The demands encompass four areas of grievance: The Justice System, Health and Human Services, Economics, and Education.
First and foremost, protestors demand the total abolition of the police department and the banning of armed city forces, making clear they do not want simple reform. They also want to end the "school to prison pipeline," a federal investigation into systemic racism in the city, reparations to victims of police brutality, the removal of ICE (unironically), and the release of every prisoner serving time for drug offenses.
Protestors want communities to handle all issues previously requiring law enforcement internally.
Prisons must be abolished, and every black inmate should be retried by a "jury of their peers."
Funding previously devoted to the police department should be diverted to:
A) Socialized Health and Medicine for the City of Seattle. B) Free public housing, because housing is a right, not a privilege. C) Public education, to decrease the average class size in city schools and increase teacher salary. D) Naturalization services for immigrants to the United States living here undocumented. (We demand they be called "undocumented" because no person is illegal.) E) General community development. Parks, etc."
Economically, CHAZ demands the de-gentrification of Seattle, rent control, more funding for the arts, free college, and an end to "homeless sweeps" where officers prevent homeless people from crowding sidewalks.
In an effort to re-segregate hospitals, protestors want more black doctors to be hired just to treat black patients. They also want resident to support black owned businesses, and for "the city create an entirely separate system staffed by mental health experts to respond to 911 calls pertaining to mental health crises, and insist that all involved in such a program be put through thorough, rigorous training in conflict de-escalation."
Finally, schools need a greater focus on black history in schools, establish required anti-bias training for teachers, and to tear down statues of Confederate soldiers.
Judging by the extensiveness of the list and radical changes being proposed, though some find bipartisan support, the CHAZ occupation could run longer than expected.
---
---
Categories: U.S. News