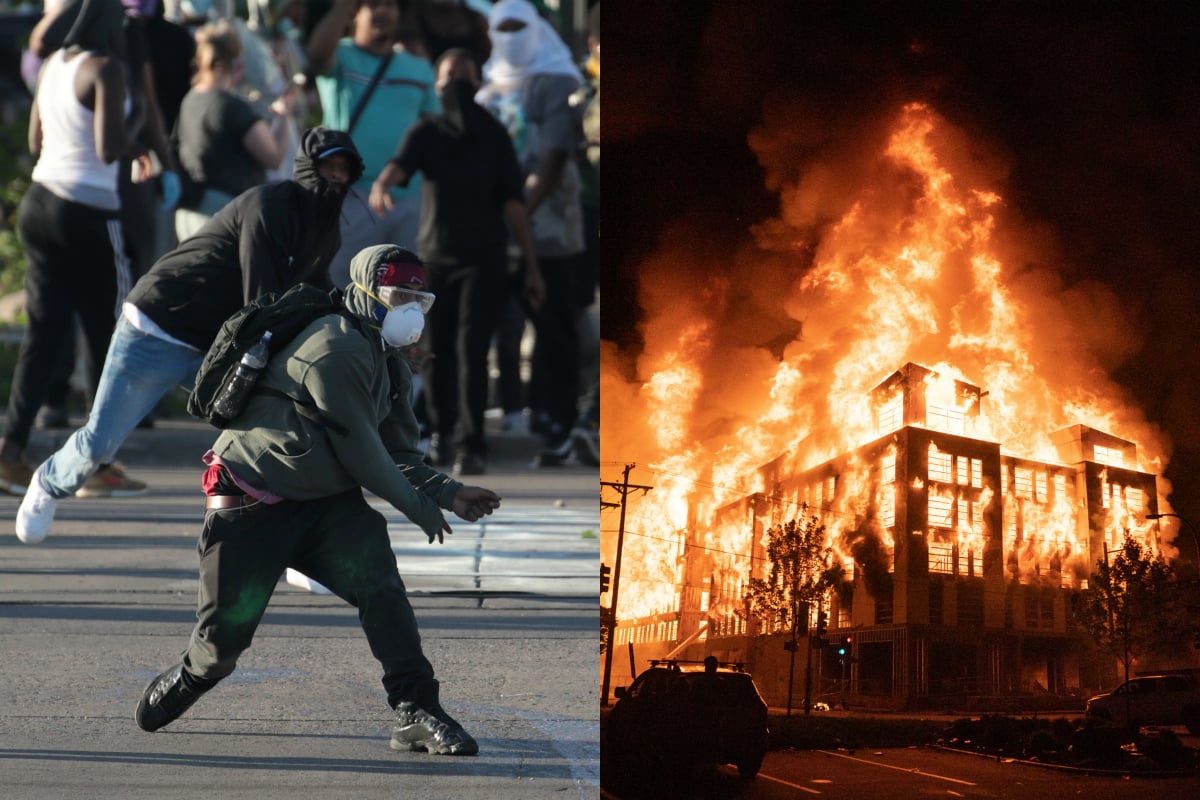 As the nation watches Minneapolis burn following riots sparked from protests over the murder of George Floyd at the hands of a city police officer, mayors from the Twin Cities claim almost every protesters arrested for rioting or looting was from out of state.
Earlier today, Fox 9 reported, "Minneapolis Mayor Jacob Frey and St. Paul Mayor Melvin Carter said Saturday that a vast majority of the rioters causing destruction are from out of state. Mayor Carter said all of the people arrested in St. Paul overnight were from out of state."
Protests erupted after a video was shared on social media showing white police officer Derek Chauvin kneeling on the neck of George Floyd, a black man accused of trying to use a counterfeit $20 bill at a local shop on May 25th. Video taken by bystanders and security cameras show Floyd taken out of his vehicle, handcuffed, before the Chauvin pushed him face down on the street with his knee wedged on the back of Floyd's neck for over 8 minutes. Three of which where Floyd was unresponsive. Floyd can be heard saying "I can't breathe" repeatedly. Floyd, who later died following the arrest, did not resist arrest nor act aggressively towards the officer in the video.
"An autopsy said the combined effects of being restrained, potential intoxicants in Floyd's system and his underlying health issues, including heart disease, likely contributed to his death. It revealed nothing to support strangulation as the cause of death," according to the Associated Press.
Police organizations, civil rights groups, politicians and citizens from all sides of the political spectrum came together in condemnation of the now ex-officer's actions.
Chauvin and the three other officers present at the scene were immediately fired, and Chauvin was charged with 3rd degree murder on Thursday.
In the days following Floyd's death, protests throughout Minnesota and all major cities erupted against systemic injustices and racial bias of police departments. Many of these protests contained a mix of peaceful demonstrators and violent looters. However, government officials report locals acted peacefully and largely without issue. Almost all acts of vandalism, theft, or arson can be attributed to out-of-state protestors.
Stores like Target, Auto-Zone, and over 200 other businesses, both local and chains, were burned down and looted over the last couple nights as riots grew. CNN's headquarters in Atlanta was vandalized, and Minneapolis's 3rd police precinct was torched as well.
Police armed with rubber bullets, tear gas, and riot shields tried to contain the violence to no avail. Minnesota Governor Tim Walz [D] called upon the National Guard to help restore order to the burning cities. "The Pentagon took the rare step Friday of ordering the Army to put several active-duty U.S. military police units on the ready to deploy to Minneapolis," according to the Associated Press.
Commenting on the riots overshadowing the protests, Mayor Frey said, "This is no longer about protesting, this is about violence. I want to be clear, the people who are doing this are not Minneapolis residents."
What started as largely peaceful protests for George Floyd have turned to outright looting and domestic terrorism in our region. We need you to stay home tonight.

By being out tonight and breaking the 8pm curfew, you are helping the people using the crowds as cover to prey on Minneapolis and destroy community. In the last few days, both our city and state law enforcement capacities have been overwhelmed by simple math — an overwhelming ratio of rioters that even our unified effort has been unable to push back.

We are now confronting white supremacists, members of organized crime, out of state instigators, and possibly even foreign actors to destroy and destabilize our city and our region.

Governor Walz, at our request and in partnership with our city and Mayor Carter, has just fully mobilized the Minnesota National Guard. MPD and our fire department will be assisting tonight as part of this operation.

We need your help tonight. We need you to stay home tonight.

So we can focus on saving our city from those who would destroy it.

Mayor Jacob Frey' Facebook Post
In a Facebook post, Mayor Frey called the events occuring in his city "outright looting and domestic terrorism." He added, "we are now confronting white supremacists, members of organized crime, out of state instigators, and possibly even foreign actors to destroy and destabilize our city and our region."
U.S. Attorney General William Barr blamed "anarchistic and far-left extremists, using Antifa-like tactics" for the nightly riots starting on the 26th and continuing to this day.
"Groups of outside radicals and agitators are exploiting the situation to pursue their own separate and violent agenda," he added.
Barr promised to prosecute rioters who've caused unrest and chaos across American cities.
An 8:00 PM curfew was imposed in Minneapolis as a way to separate peaceful protestors and violent rioters.
---
---
Categories: Uncategorized