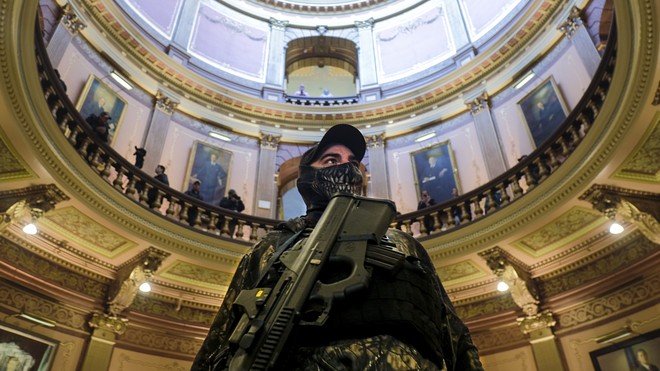 Plans to extend Michigan's abnormally strict 'stay at home' order implemented in early April drew hundreds of protestors, many armed, to the state capital in an attempt to sway Governor Gretchen Whitmer' controversial decision.
Gov. Whitmer's stay-at-home order, while not uncommon, goes further than most states. "Michiganders won't be allowed to travel to in-state vacation residences. They are not permitted to use a motor boat. Business restrictions have been tightened, including that large stores must close areas 'dedicated to carpeting, flooring, furniture, garden centers, plant nurseries, or paint,' among other measures. Violators could be fined or charged with a misdemeanor, though the practicality of strict enforcement was unclear," NBC reported when original order was tightened in mid April.
As states such as Florida, Georgia, and Texas, among many others, have begun loosening restrictions amid a flattening of the curve and the revelation through serological surveys that COVID-19 is far less deadly than originally thought, states like New Jersey, California, and Michigan are doubling down on their state mandated social distancing and business closures.
Gov. Whitmer's threat to extend the shutdown from May 1st to May 28th drew hundreds of protestors, some who were armed with a variety of rifles and body armor, to Michigan's state house where legislatures were debating the order in question. BBC reported, "thursday's protest, dubbed the 'American Patriot Rally', was organised by Michigan United for Liberty. It called for state businesses to reopen on 1 May in violation of state orders."
Michigan is an open carry state, and it's legal to carry firearms inside the statehouse.
"Let us in!", "Let us work" and "This is the people's house, you cannot lock us out" could be heard from protestors outside.
Some protestors entered the legistature gallery while the topic was being discussed, but they were blocked from entering the actual floor of the state house.
Some legislators wore bullet proof vests out of fear.
"The virus is here," one demonstrator, Joni George, told the Associated Press. "It's going to be here… It's time to let people go back to work. That's all there is to it."
Despite the legislature blocking the stay-at-home order's continuation, Gov. Whitmer went ahead and extended the measures through executive order. Several Republicans have threatened to sue the state, claiming the order's far reach is unconstitutional. The Hill reported, "lawmakers in the Republican-controlled state legislature have said they are planning to sue Whitmer over her exercise of state emergency powers during the coronavirus pandemic."
In a statement, Gov. Whitmer said "COVID-19 is an enemy that has taken the lives of more Michiganders than we lost during the Vietnam War. While some members of the legislature might believe this crisis is over, common sense and all of the scientific data tells us we're not out of the woods yet… By refusing to extend the emergency and disaster declaration, Republican lawmakers are putting their heads in the sand and putting more lives and livelihoods at risk."
Serological studies in New York and California suggest the virus is leaps and bound less deadly than originally thought because millions have already been infected, developed antibodies, and gotten over the virus without being tested.
President Trump weighed in Friday morning, saying on Twitter, "the Governor of Michigan should give a little, and put out the fire. These are very good people, but they are angry. They want their lives back again, safely! See them, talk to them, make a deal."
With over 30 million people filing for unemployment within 6 weeks, an unprecidented level, many Americans are fighting tooth and nail for their lives back.
---
---
Categories: Politics