With the Nevada primary caucus days less than a week away, the Democratic front runner comes under fire from the largest union in Nevada for his trademark proposal.
Vermont Senator Bernie Sanders [D] won the popular vote in the Iowa caucus, though he lost the delegate count to Mayor Pete Buttigieg, and won the New Hampshire primary outright. He's also the current leader in most national polls of likely Democratic primary voters, unseating former Vice President Joe Biden's frontrunner status.
Last Tuesday, the Nevada Culinary Union released a scorecard comparing proposals between the six leading Democratic candidates with President Trump. The flyer, which was sent to Union members, told workers that Sanders' plan would "end culinary healthcare," and "require 'Medicare-for-All.'"
The Culinary Union Local 226 represents 60,000 culinary workers throughout Nevada, more than any other union in the state. Union members are considered a Democratic stronghold and have overwhelmingly supported candidates like Senator Sanders in the past.
The flyer also lumped Senator Elizabeth Warren in with Senator Sanders, saying she too would end their high quality healthcare plans negotiated by the union leaders. Switching to medicare would be a huge step down in quality for the thousands of members, otherwise they would not have needed to specify the change.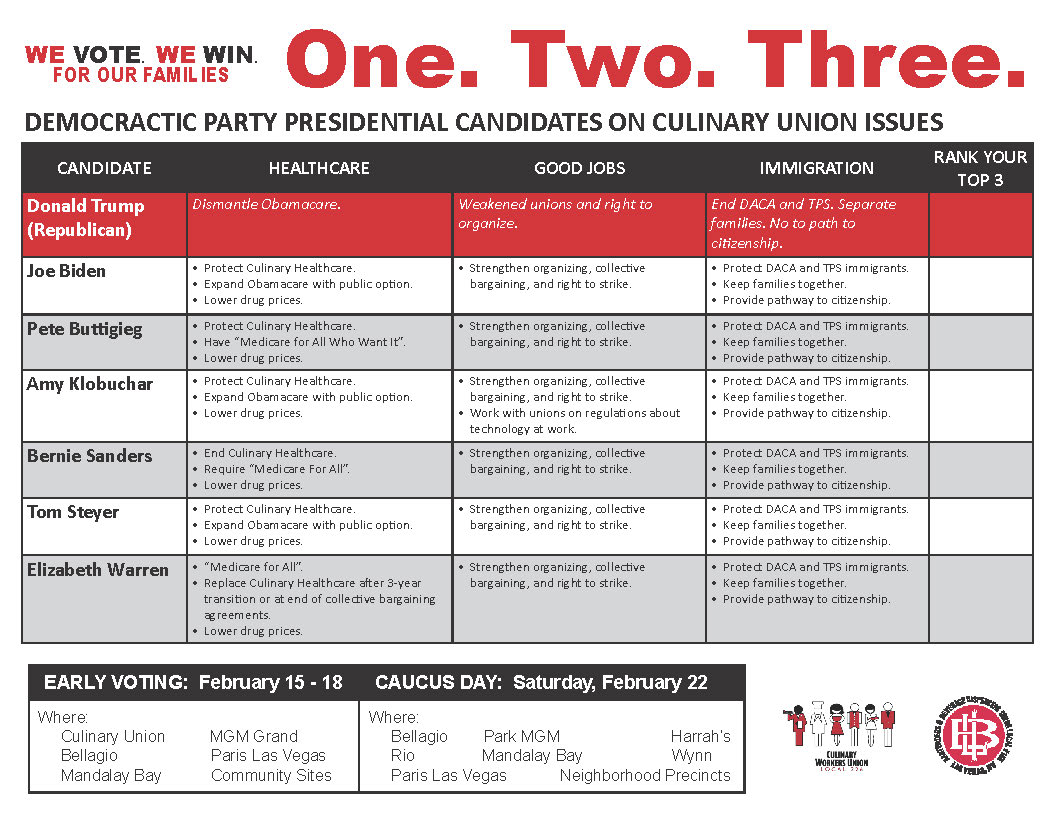 Though the language and the layout of the flyer also shows the union is clearly anti-Trump, which at this point in political history is a given.
After news of the flyer went public, the union was swiftly attacked by Bernie Bros who were upset over what seemed to be a dis-endorsement.
In a statement, the Union said, "our union believes that everyone has the right to good healthcare and that healthcare should be a right, not a privilege. We have already enacted a vision for what working people need – and it exists now. Workers should have the right to choose to keep the healthcare Culinary Union members have built, sacrificed for, and went on strike for 6 years, 4 months, and 10 days to protect."
They added a star rebuke to the online attacks by Sanders' supporters, "it's disappointing that Senator Sanders' supporters have viciously attacked the Culinary Union and working families in Nevada simply because our union has provided facts on what certain healthcare proposals might do to take away the system of care we have built over 8 decades."
The union fights "for what we [sic] believe in and will continue to do so." As the Nevada caucus fast approaches, the union's influence may damage the democratic socialist's front runner status. According to the Real Clear Politics rolling average, Sanders is currently up by 3% over Joe Biden.
---
---
Categories: Politics