As tensions between the NBA, the Chinese government, and Hong Kong supporters intensifies during the leagues preseason, protesters decided to hold the commission's feet to the flames by highlighting their censorship of players and coaches commenting on the Communist nation's human rights violations.
Following the Brooklyn Net's return to the Barkley Center from their preseason games in China, over 100 peaceful protesters gathered along the court side, filling almost 8-rows of seats, dawning shirts that read Stand with Hong Kong. Nine fans also wore shirts with Free Tibet written on them.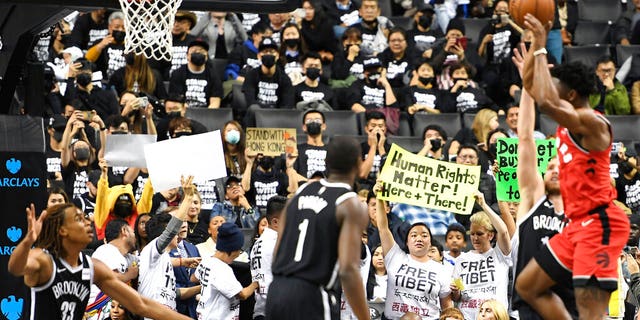 Protests targeted towards the NBA came after Huston Rockets general manager Daryl Morey shared an image via Twitter which state he supported the Hong Kong protesters who have been fighting recently implemented extradition laws, and trying to implement democracy in the once Western colony turned territory of China.
After the NBA came out against Morey and his Tweet, Lakers player Lebron James told reporters the general manager was out of line for criticizing China, saying "I believe [Morey] wasn't educated on the situation at hand and he spoke."
Brooklyn Nets owner, Alibaba co-founder, and Hong Kong native Joe Tsai released a statement condemning Morey as well in a Facebook post stating:
What is the problem with people freely expressing their opinion? This freedom is an inherent American value and the NBA has been very progressive in allowing players and other constituents a platform to speak out on issues.

The problem is, there are certain topics that are third-rail issues in certain countries, societies and communities.

Supporting a separatist movement in a Chinese territory is one of those third-rail issues, not only for the Chinese government, but also for all citizens in China.

The one thing that is terribly misunderstood, and often ignored, by the western press and those critical of China is that 1.4 billion Chinese citizens stand united when it comes to the territorial integrity of China and the country's sovereignty over her homeland. This issue is non-negotiable.

Joe Tsai on Daryl Morey's support of Hong Kong protesters.
Regardless of how much pro-athletes tell people they're uninformed on the issue, the 100 protesters who assembled in the Barkley's Center last night, doing something that would've gotten them sent to a modern day concentration camp, Hong Kong natives who made up the majority of the protesters had another story.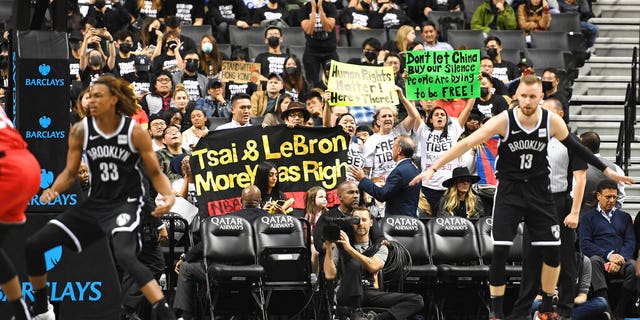 Several protesters spoke with reporters at the New York Post, saying:
"We want to use our performance art to show our support for Hong Kong and the NBA," one organizer, author Chen Pokong, 55, told The Post.

"They want to take away freedom of speech and now spread dictatorship to America," he said of China.

"It seems like NBA people cannot choose their words. So if we don't stop them, they not only will do bad things in China, they will do bad things in America."

Another organizer, Andrew Duncan, took Lebron James to task criticizing Rockets GM Daryl Morey for tweeting his support for the Hong Kong protesters.

"Lebron needs to take time on this issue," Duncan said. "Why is he not supporting Democracy? I think the King has made a royal mistake."
The human rights violations by mainland China is no secret to the Western world. However the likely reason why NBA stars like Lebron James refuses to come out against the atrocities despite supporting Colin Kaepernick's kneeling protests is due to the massive amounts of money China shells out to the NBA; over half a billion by some estimates.
---
---